BVZ A 2076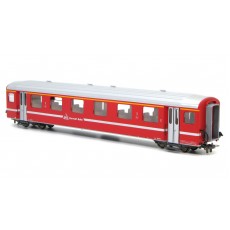 Product Code:
3276516_BEMO
Price:

Fr. 59.90


Ex Tax: Fr. 55.62
Zwischen 1968 und 1975 beschaffte die BVZ mit den A 2071-2078 bzw. B 2281-2290 insgesamt 18 neue Einheitswagen. Die bei der SIG hergestellten Fahrzeuge sind eng verwandt mit den Einheitswagen Typ III der SBB Brünigbahn sowie Wagen der Berner Oberland-Bahn. Dank ihrer Vielfachsteuerleitung werden sie gemeinsam mit den Steuerwagen Bt 2251-2254 im Pendelzugdienst eingesetzt; häufig sind bzw. waren sie auch im "Glacier Express" anzutreffen. Zwei der Erstklasswagen wurden zwischenzeitlich mit einem Gepäckabteil bestückt und als AD 2077-2078 bezeichnet. Nach der Fusion der BVZ mit der FO zur Matterhorn Gotthard Bahn (MGB) wurden Modifizierungen an der Belüftung durchgeführt und zusätzliche Aggregate auf dem Dach montiert.
Construction / technical data
Material
Plastic
The prototype
Coloring
red/silver
Epoc
V
Gauge
1000 mm
No. of axles
4
Operation purpose
1st class
Registration No.
A 2076
Shipping company
BVZ
Vehicle category
Waggon
Vehicle type
Passenger coach
The model
Condition of the model
New
LoB | Length over buffers
L=208.5 mm
Model scale
1:87
Original package condition
New
Track gauge
H0m
There are no reviews for this product.