Bemo 2283714 | BOB Gbk-v 604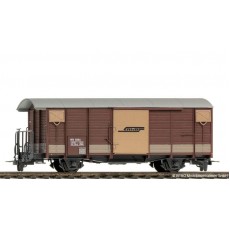 Product Code:
2283714_BEMO
Price:

Fr. 84.10


Ex Tax: Fr. 78.09
Rare item! Bemo 2283714 | BOB Gbk-v 604
Image: Placeholder of the same type.
Construction / technical data
Material
Plastic
The prototype
Coloring
brown
Epoc
III
No. of axles
2
Operation purpose
Box car
Real Gauge
1000 mm
Registration No.
604
Shipping company
BOB Berner Oberland Bahnen
Vehicle category
Waggon
Vehicle type
Freight wagons
The model
Condition of the model
New
LoB | Length over buffers
L=96 mm
Model scale
1:87
Original package condition
New
Track gauge
H0m
There are no reviews for this product.